Main Menu
Home
Forums
Members options
Search
News- Page 4
The Burning Crusade
Posted by Corgi on Friday, January 19, 2007 (09:00:26) (714 reads)
We enter The Burning Crusade, backed by years of experience at grinding and camping mobs whilst ten thousand other players fight for the same kill. For many, its a battle against the pack as they move in one heap between areas. At time of writing, Zangarmarsh has become the Hellfire Peninsula of BC release. Thankfully, Blizzard have given us some easily accessible instance content without having to trapse the Earth.

Personally, the levelling speed has a concern. To see players hit L70 in basically what's been 3 and a bit days, was a mistake. However, if you ignore the power grinders most seem to be actively engaged in content which is great to see.


Of course, with levelling comes comments...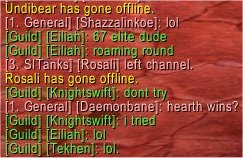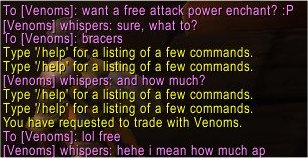 Context is a wonderful thing!


And even more amusingly, the above two pictures were sized manually - yet are pretty equal in height - win
comments? |
Score: 5
Maexxna Dewebbed, Emperors Dethroned
Posted by Corgi on Sunday, October 22, 2006 (12:24:19) (1242 reads)
As someone said on the day, "

Why don't we just rip off her legs and go stab?

" - we proceeded to do just this after a successful two week period in which we've gone above and beyond what we have done before. Fast clears through Naxx, BWL and AQ coupled with short staffing due to timezones - everyone I think definitely got something out of the previous few weeks of raiding which enabled us to take down the big spider thing.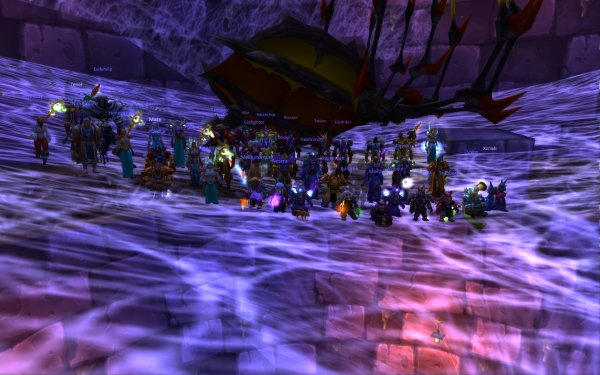 The larger version is available.

In potentially a first kill mirroring Nefarian, Nestra collected a [item]Wraith Blade[/item] whilst Raster and Inhibitor collected [item]Desecrated Gauntlets[/item]. However, it did nothing to put a hole into Inhibitor's DKP pool. Penalty time.


---




UPDATE!

We also ventured into AQ tonight to attempt to defeat the Twin Emperors now that we were able to commit some time to the brothers in arms. The end result was two corpses, and some epic loots!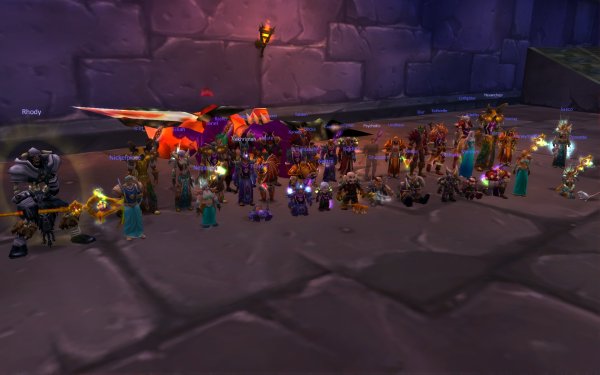 The larger version is available.

Drognen ([item]Vek'lor's Diadem[/item]) and Eiliah ([item]Vek'nilash's Circlet[/item]) collected their 2.5 headpieces, whilst Merihim ([item]Boots of Epiphany[/item]) and Nickelplate ([item]Belt of the Fallen Emperor[/item]) collected some nice pieces as well. Unfortunately, some players missed out on this raid due to sleep or overcrowding.


---

And to show we're not all about the loot, sometimes we can have a bit of a laugh also:





Onward!
Read More... | 4 comments |
Score: 0
Faerlina - Gone!
Posted by Corgi on Tuesday, October 10, 2006 (05:03:22) (659 reads)
After some floater attempts last week, we managed to push into Faerlina and defeat the woman and her harem.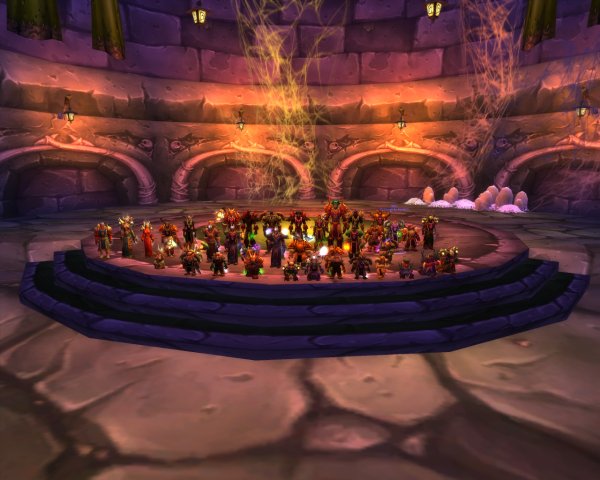 The larger version is available.


Loot wise, Trubbert picked up [item]Icebane Pauldrons[/item] whilst Gwydeon collected his [item]Desecrated Bindings[/item].
comments? |
Score: 0
Naxxramas Progression
Posted by Corgi on Saturday, September 23, 2006 (13:36:47) (675 reads)
Today we moved further along our journey towards Sapphiron and beyond by downing Noth. The encounter itself is quite technical, with less margin for error than really experienced previously.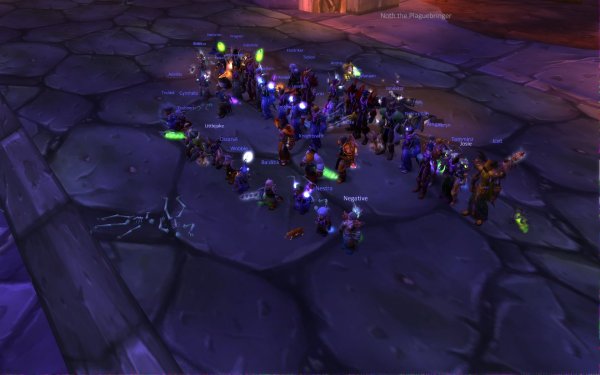 The larger version is available.


Grats to all the attendees and players who fought hard for this victory
Grats to Saeco on [item]Noth's Frigid Heart[/item] also!
comments? |
Score: 0
Naxx Progression
Posted by Corgi on Tuesday, August 15, 2006 (19:20:33) (595 reads)
Okay, so as most will know we've started on our Naxxramas journey. We've met with some good progress, screenshots as follows. All in all, we've progressing very well - with the Instructor battle going pretty smoothly. Corpse despawned, so we went and took a photo in the battle room instead!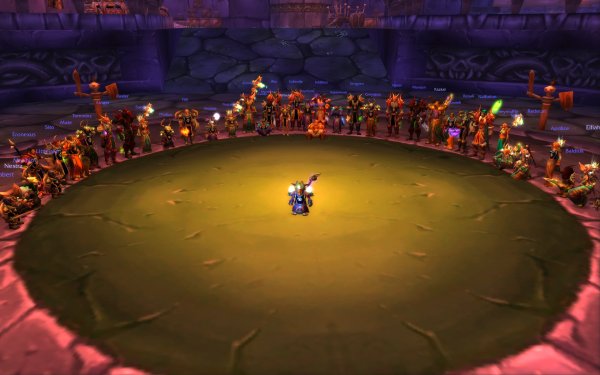 Belatedly, we also downed this guy the other week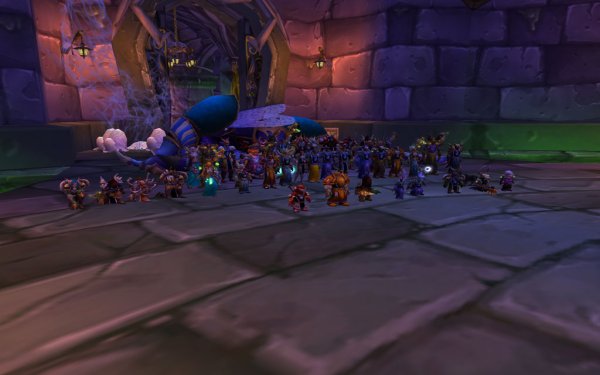 Large images of Instructor and Anub available.
comments? |
Score: 0
Survey
What class was the first character you created in WoW?


User Info
Welcome
Anonymous
---
---
Membership:
Latest:
KentuckyRose
New Today:
0
New Yesterday:
0
Overall:
92
---
People Online:
Members:
0
Visitors:
4
Total:
4
---
Who Is Where:
Visitors:
01:
Stories Archive
02:
News
03:
News
04:
My Account
---
Staff Online:
No staff members are online!