Main Menu
Home
Forums
Members options
Search
News- Page 3
Guild Update
Posted by Corgi on Sunday, January 15, 2006 (20:27:43) (597 reads)
Time for a guild update I reckon. In recent news, our second MC group has downed Ragnaros on their first serious
attempt! Of course, there were some wipes on the previous run including a heartbreaking SI famous
1% wipe on the first attempt of the night, but we got him the second attempt.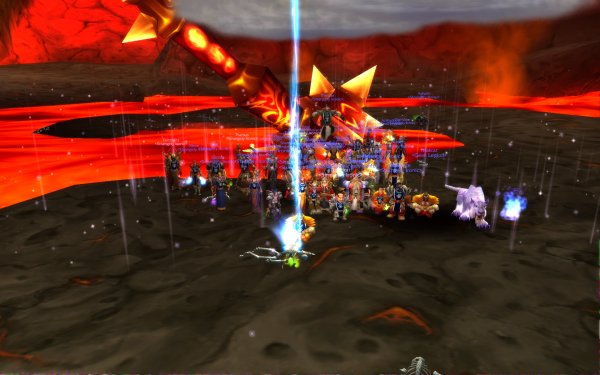 We also hit our straps in BWL, and downed the ever-present Razorgore! We'd hit some scheduling problems
in weeks previously, and once we found a good timeslot we were able to give it a
good bash. Kudos go out to Blizzard for making the instance so good,
good enough that it drops one of our rogues every single time we attend.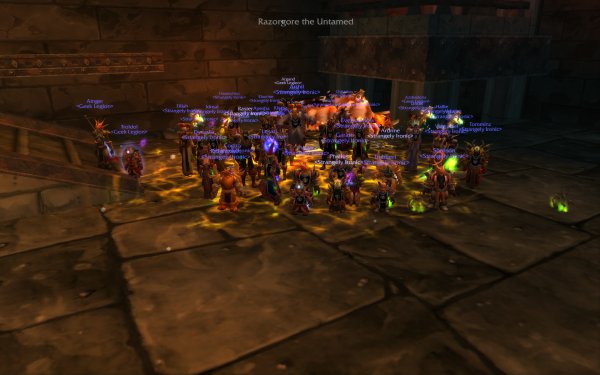 2005 has been and gone. WoW had some festivities on New Years Eve culminating in some very poor fireworks.
Apparrently, they were about as poor as the ones for Independence Day.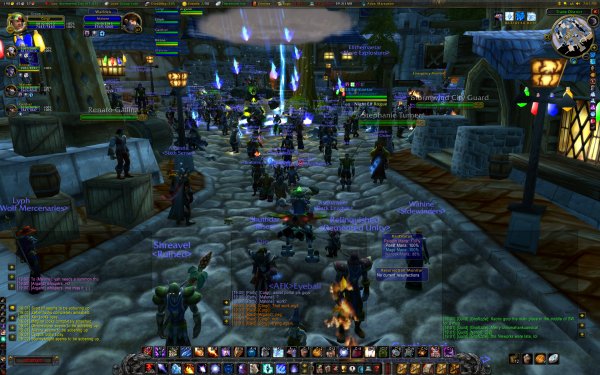 We also went out to Silithus on the weekend on the back of some rep farming by Psychotic and Tabion.
We killed some bosses such as this guy: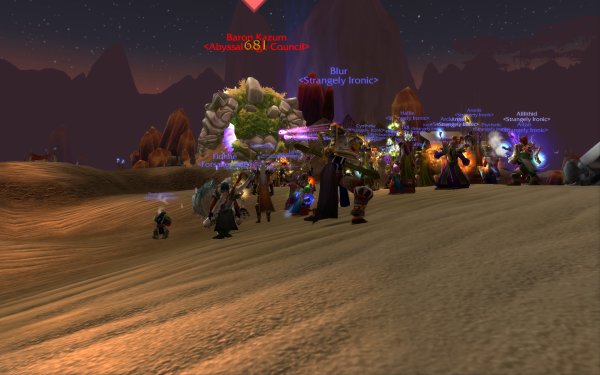 Unfortunately

, out of two days we killed the same boss...

SIX

times! We also ran across a PvP'd horde
who was a loonnnnggg way from home: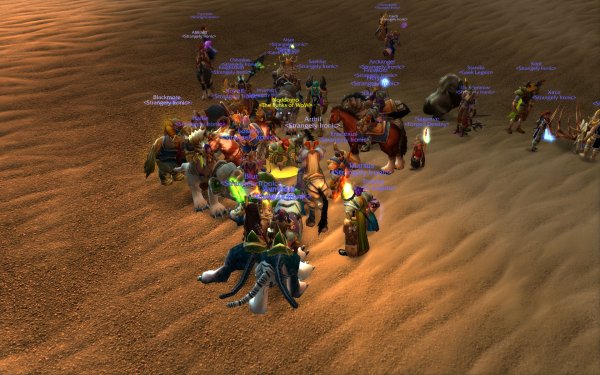 Christmas has also been and gone. 1 year of Warcraft, and a reflection on where
we have all come from to get to where we are in the game today. At times throughout
Azeroth, we run into the enemy, even if they're strangely familiar (in this case)
Sander, from Strangely Hordish: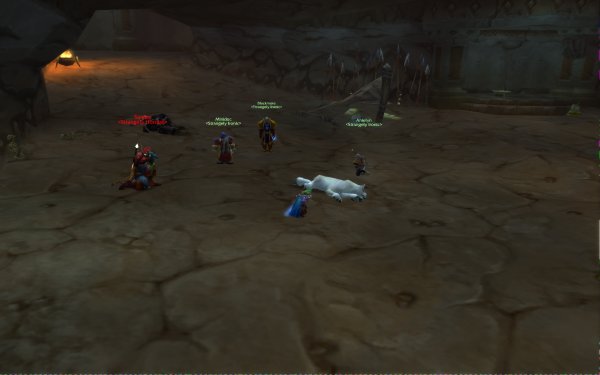 Strange times can happen indeed when playing with guild tabbards: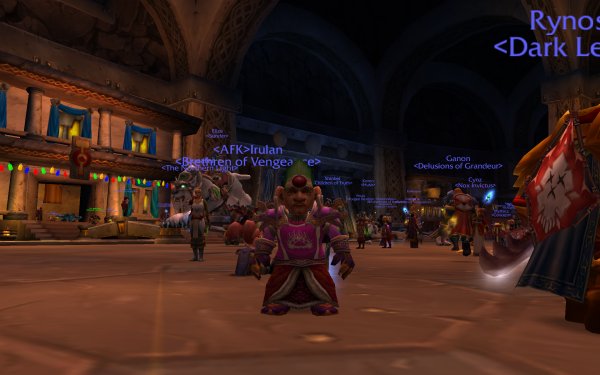 Lots of reindeers in Ironforge: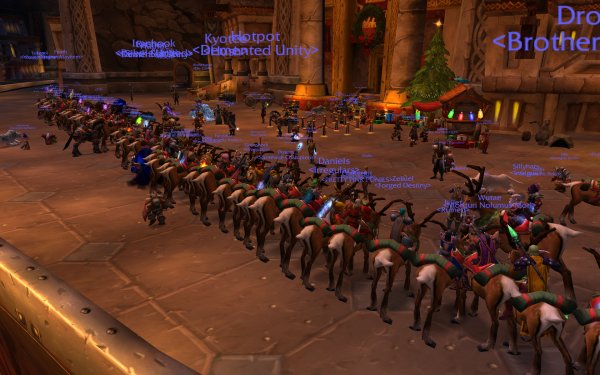 and the Christmas SI 2005 photo: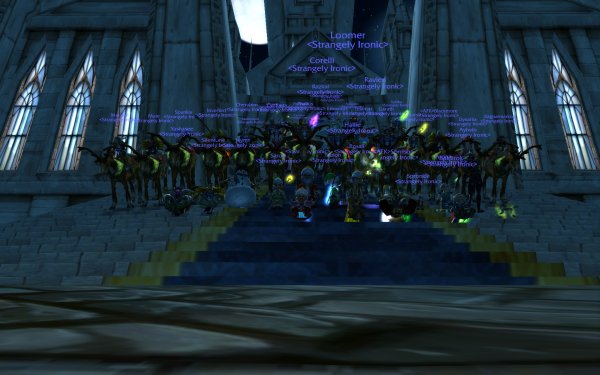 comments? |
Score: 0
Scavenger Hunt!
Posted by Corgi on Monday, September 19, 2005 (16:34:18) (572 reads)
Welcome to the SI Scavenger Hunt! This will run for 24 hrs from 8pm AEST Tuesday to 8pm AEST Wednesday!

Each item you return is allocated points. The winner at the end of the hunt is the team with the most points.

Your list is:
Thorium Ore/Bar - 3 points
Rugged Leather - 2 points
Elemental Fire - 10 points
Dreamfoil - 5 points
Sungrass - 5 points
Mountain Silversage - 5 points
Golden Sansam - 5 points
Fish - 5 points


Essence of Water - 150 Points




Larval Acid - 80 points


Twill Armor - 10 points per item, 20 point bonus for the complete set
Firework - 2 points
Item from a Kobold - 5 points
Wolf Meat/Bear Meat - 2 points
Dark Iron Residue - 25 points per stack of 100
Nightfin Salmon - 50 points

Bonuses:


Essence of Air - 300 points


Big Iron Fishing Pole - 500 points


Stonescale Eel - 25 points



Items in bold will assist the guild in many ways.

500 bonus points if you get the whole list!

Prizes will be given for creativity in:
Best Item
Worst Item


Happy hunting!
comments? |
Score: 0
Guild Update
Posted by Corgi on Saturday, August 27, 2005 (16:53:01) (538 reads)
After weeks of hard effort by all attendees, SI has ploughed through MC this weekend with fireworks, deaths and lots of loot. This weekend heralds our first clear through to Golemagg! Every attendee this weekend should be proud of the progress we have made, and everyone from raids past should feel proud of their contribution to this boss killing machine.


Shazzrah: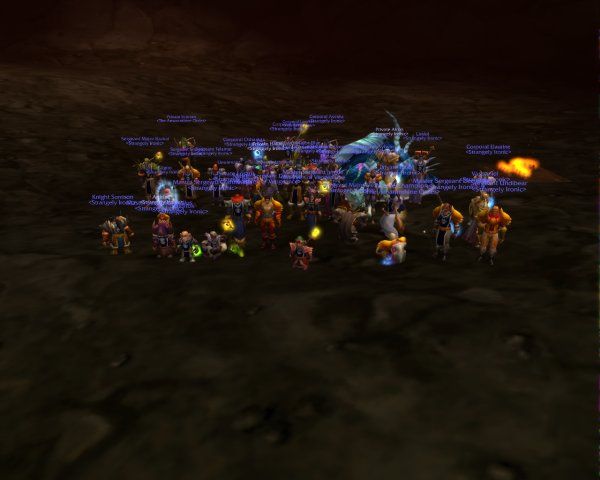 Sulfuron: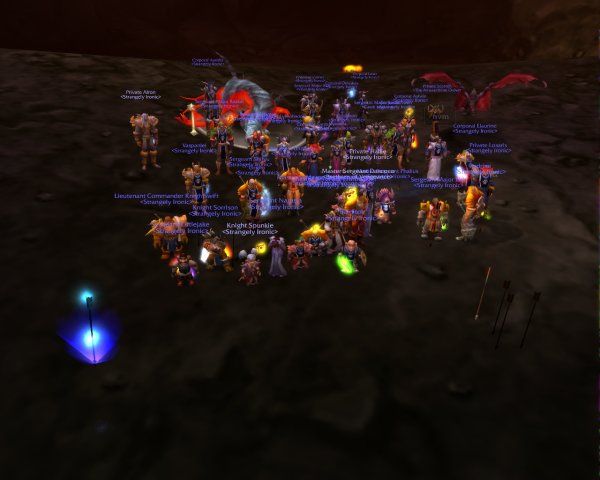 Golemagg: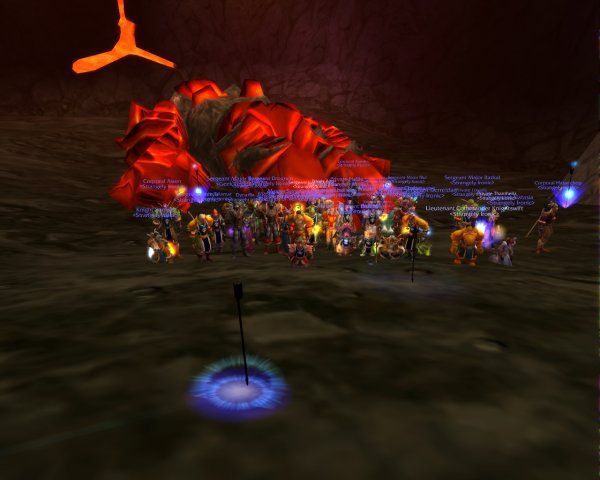 Our thanks officially goes out to all the guilds (BWM, PM, FD) and friends who have helped us out along the way with tactics and/or other helps. Your happiness to see us progress has been a blessing in disguise - thank you.

To the officers and members of SI as well as our friends who sat through the wipes at the start with aplomb and never once questioned the seemingly bizarre tactics we were telling you to follow, we thank you.

Above all else we're in this as a challenge and to have fun. Here's to many weeks of that continuing!
comments? |
Score: 0
MC & Onyxia Update
Posted by Corgi on Monday, July 25, 2005 (19:39:20) (598 reads)
Congratulations to SI and Associates for bringing our dear Onyxia to 10%. As most will agree, this was a great achievement for a team of players relatively fresh to end-game content.

MC is progressing well - our non-Dwarf Mags strategy is starting to pay off, so Mags will enter farm status very soon. Congrats to the Purple winners from the weekend.
comments? |
Score: 0
Survey
What class was the first character you created in WoW?


User Info
Welcome
Anonymous
---
---
Membership:
Latest:
KentuckyRose
New Today:
0
New Yesterday:
0
Overall:
92
---
People Online:
Members:
0
Visitors:
4
Total:
4
---
Who Is Where:
Visitors:
01:
Home
02:
Home
03:
Home
04:
News
---
Staff Online:
No staff members are online!