Main Menu
Home
Forums
Members options
Search
News
The Burning Crusade
Posted by Corgi on Friday, January 19, 2007 (09:00:26) (678 reads)
We enter The Burning Crusade, backed by years of experience at grinding and camping mobs whilst ten thousand other players fight for the same kill. For many, its a battle against the pack as they move in one heap between areas. At time of writing, Zangarmarsh has become the Hellfire Peninsula of BC release. Thankfully, Blizzard have given us some easily accessible instance content without having to trapse the Earth.

Personally, the levelling speed has a concern. To see players hit L70 in basically what's been 3 and a bit days, was a mistake. However, if you ignore the power grinders most seem to be actively engaged in content which is great to see.


Of course, with levelling comes comments...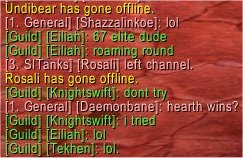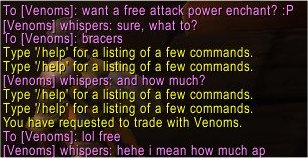 Context is a wonderful thing!


And even more amusingly, the above two pictures were sized manually - yet are pretty equal in height - win
comments? |
Score: 0
General Stuff + Recruitment
Posted by Corgi on Monday, August 14, 2006 (13:48:43) (631 reads)
On the Recruitment front, we are currently searching for a

Paladin

(preferably with Blessing of Kings or willing to respec to) who can make at the least, our weeknight raids. Gear isn't as important as experience of some kind - be that MC, ZG or AQ. You should enjoy healing (and not suck at it), be able to buff without being reminded - and not have a nervous itch to break out a 2Her to get SoC crits. Apply on the Recruitment forum if you are this type of player.

Times like this I remember the days of Paladin tanks and Paladin dps - sadly for applicants, now isn't that time!


As we progress in Naxxramas, we stop and reflect on some of the things that make you laugh. Two such things were as follows. Firstly, we have Psychotic teaching us the benefits of concentrating on boss encounters:






And secondly, we have Tabion attempting to shortcut his way to EPL. History will show however, that he beat Blur to LHC: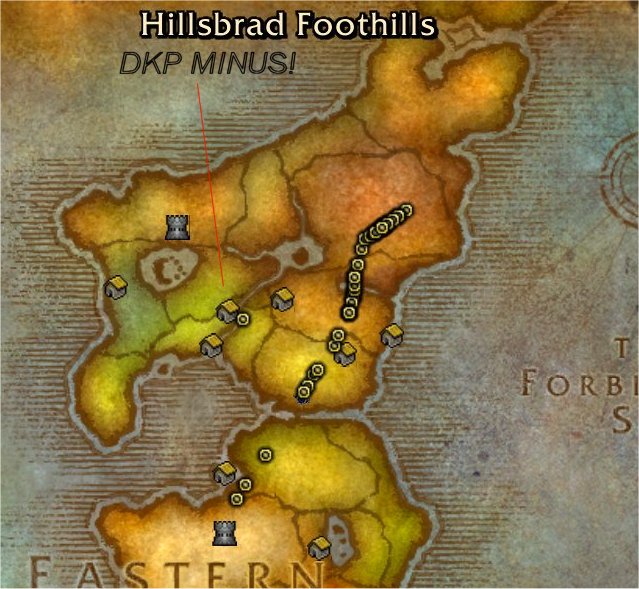 comments? |
Score: 0
Recruitment
Posted by Corgi on Sunday, July 09, 2006 (08:56:00) (689 reads)
We are currently searching for players who can offer good raid attendance and skill, but won't get upset at sitting out. These players should be of the

Priest

,

Hunter

,

Druid

,

Rogue

variety. This opportunity is ideal for players wishing to progress in end-game content, and are good at what they do - but tempered by a non-permanent slot in our raiding roster.

Apply in the Recruitment forum if you fit this mould!

(We are no longer recruiting, thanks to all)
comments? |
Score: 0
Recruitment? OMG.
Posted by Corgi on Friday, April 14, 2006 (23:55:24) (655 reads)
Never actually thought we'd say this, but we're currently looking for

Hunters

to fill some spots in certain raids. If you want to become involved in AQ20 or ZG, and wish to be part of SI of course - now's the time to apply.

Start by going here and filling out a decent application. Remember, your application is potentially the first thing we see of you - so don't treat it shabbily.
comments? |
Score: 0
Ode to a Completely Insane Individual
Posted by Corgi on Monday, April 10, 2006 (19:20:33) (814 reads)
We thought this was appropriate after moronic treatment by a self-righteous asshat. Thanks to the comic designer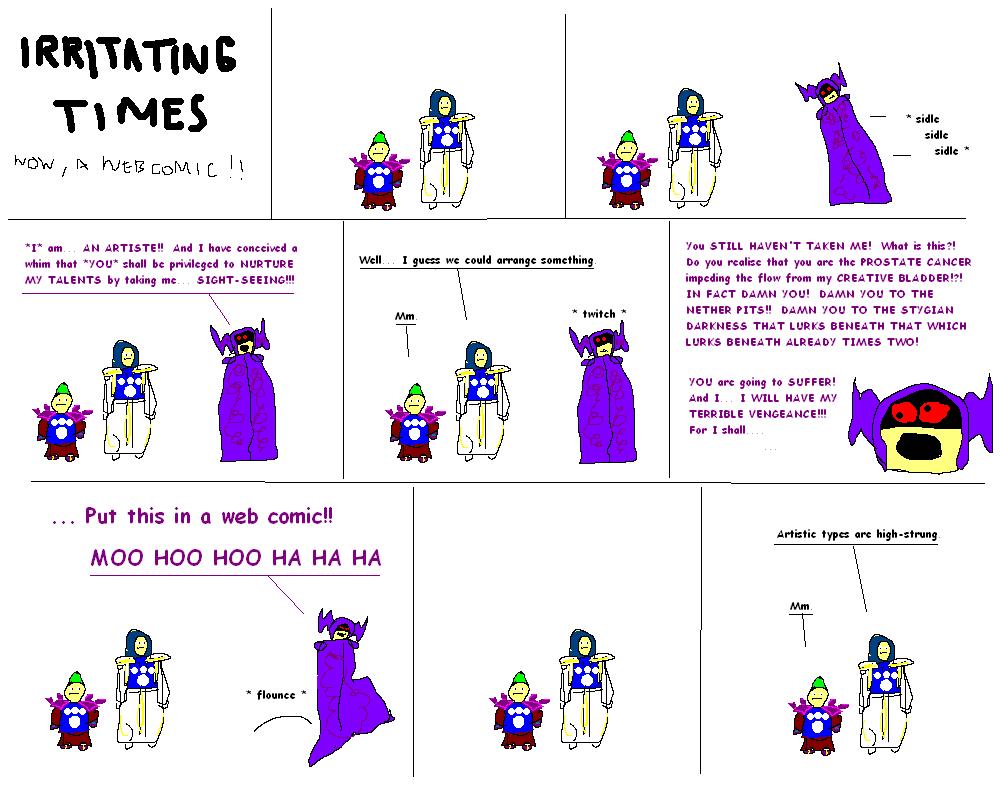 Read More... | 3 comments |
Score: 0
Survey
What class was the first character you created in WoW?


User Info
Welcome
Anonymous
---
---
Membership:
Latest:
KentuckyRose
New Today:
0
New Yesterday:
0
Overall:
92
---
People Online:
Members:
0
Visitors:
2
Total:
2
---
Who Is Where:
Visitors:
01:
News
02:
News
---
Staff Online:
No staff members are online!